Membership Information
See what types of service are acceptable of an ancestor if a descendent is to be admitted into the Sons of the American Revolution. (takes you to the NSSAR web site...click your Return button to return to the Texas SAR site)
Watch a video of PPG Ed Butler containing Genealogical Tips & Methods for preparing a successful application for the SAR.
Information on where to find what you will need to proceed with your application to join.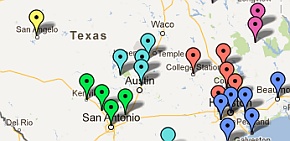 Chapter Locations
Check out a Texas map with locations of all of our chapters. The location icons can be clicked to obtain information about the respective chapter.