Ira Hobart Evans
Organizer and First President, Texas SAR
The following article is from the "Society History, Biographies, Portraits, and Genealogy, First Edition, Volume II" commonly known as the Texas SAR History Book Vol. 2 compiled by the Texas SAR Archives Committee
Ira Hobart Evans, soldier, legislator, businessman, religious leader, and philanthropist was one of the most distinguished citizens of Texas in his lifetime. His achievements played a part of one of the country's greatest commonwealths. His business life was associated in the growth and development in the Southwest, especially in West Texas. His leadership and executive ability were evident in every phase of his life. He showed a high sense of responsibility and devotion to the service of religion, philanthropy, and the up building of an institution of education for the less fortunate. The best clue to the character of this man were his many and brilliant achievements.
Major Ira H. Evans was born in Piermont, Grafton County, New Hampshire on April 11, 1844 to Dr. Ira & Emeline Hobart Evans. Dr. Evans died in 1852 when Ira was only 8 years old. His mother and family moved to the Berlin-Barre area in Vermont (near Montpelier) where he attended the Barre Public Schools and the Barre Academy.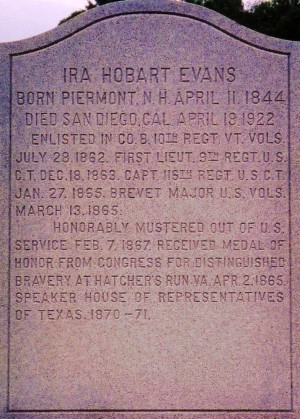 Inscription on Ira H. Evans' Medal of Honor Association marker in Berlin Corners Cemetery, Berlin Corners, VT
In July 1862 he was determined to serve the Union in the War Between the States and enlisted as a Private in Company B, 10th Vermont Volunteer Infantry. He was later commissioned a First Lieutenant in January 1863 and promoted to Captain in January 1865. In March 1865 he attained the rank of Brevet Major and was appointed acting assistant of the 25th Army Corp, Army of the James. On April 6, 1865 while serving as the leader of Company B, 116th U. S. Colored Troops, he earned the Medal of Honor for bravery during the Battle of Hatcher's Run, Virginia. The Citation states that "Evans voluntarily passed between the lines, under heavy fire from the enemy and obtained important information." On April 17, 1865 he was selected as one of the officers of the honor guard to march in President Abraham Lincoln's funeral cortege. After the war Major Evans was sent to Texas as a member of the occupation forces of General Philip Sheridan of the Grand Army. He held several positions in the Brownsville, Texas area including Provost Marshall. He was discharged on January 31, 1867 in New Orleans.
Returning to Texas he settled near Corpus Christi and became a rancher. He was elected to the Texas House of Representatives representing the Western District of Texas. He was then elected Speaker of the House in 1870 at the age of 25 years and was the youngest person to ever hold that office. The record still stands today. He took an active interest in all legislation especially that relating to the railroad system which was just starting in West Texas. He left political life in 1871 after his two year term making many friends and developing many contacts which helped him later in his business life.
Major Evans pursued a business career in 1872 and was elected general manager of the Texas Land Company of Houston. He then became Secretary of the International Railroad in 1874. He was a director of the railroad from 1875-1908. In 1880 he moved to Austin and became President of the New York and Texas Land Company serving from 1880-1906. He was instrumental in the purchase from the State of Texas of over five million acres of land for development in West Texas and the Panhandle. As the land was being developed it was stated at the time that millions of dollars passed through the hands of President Evans and no account was ever questioned. He was known to be honest, efficient, able, and faithful to every trust that was imposed upon him. He was a co-founder of the Austin National Bank and served as director for 40 years. He also became President of the Austin Electric Railway Company.
His lifelong interest in the educational advancement of young southern blacks was evident in his support of Huston-Tillotson College of Austin. He served on their board of directors for 40 years. He donated thousands of dollars to the college for use in academic training of students in construction skills. The administration building of the school bears his name today. He also gave additional bequeaths to the school including building a residence for the school president.
Major Evans was raised in the Congregational Church which instilled strong Christian beliefs in him. He served as president of the American Missionary Society and the Sunday School Association. He was a member of the board of trustees of the First Congregational Church of Austin and of the First Presbyterian Church as well. Among the organizations to which he belonged were the Military Order of the Medal of Honor, Military Order of the Loyal Legion, Society of Colonial Wars, American Historical Association, Texas Historical Association, and the NSSAR.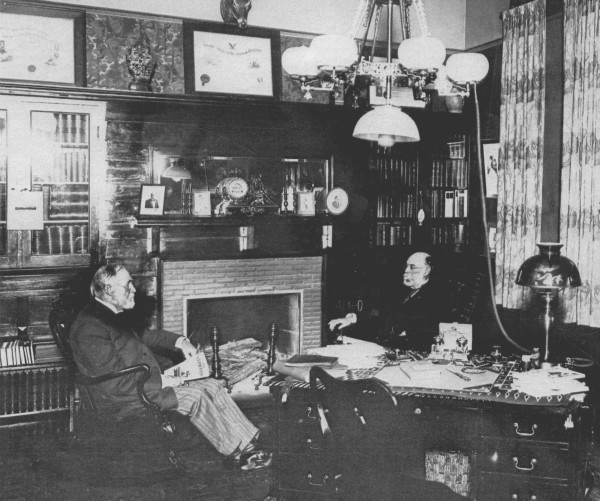 Major Ira H. Evans (at right) in his office at home in Austin, TX with his brother-in-law, Capt. Thomas A. Yale, planning the events for the 2nd Texas SAR Meeting in 1898. Maj. Evans' SAR and Medal of Honor Certificates can be seen on the wall at the upper left.
While a resident of Austin, he joined in November, 1890 the Vermont Society, SAR. Major Evans was a great grandson of three American Revolution soldiers-patriots. He was very patriotic and had a great love of his country. On December 8, 1896 he gathered a small group of men and met in Galveston to organize the Texas Society, SAR. His national number was #2751 and his Texas State number was #1. Being a successful businessman and Medal of Honor recipient, Major Evans rose to the occasion of leadership and was elected as the first President. He guided the Society for its first six years and when he left office he gave every library in Texas a copy of the National Society's Register to help create SAR chapters all over the State. He later served as First National Vice President of NSSAR and on many national committees. He was a strong and faithful member of the SAR for 32 years from 1890-1922. His love for the need and purpose of the SAR never wavered as evidenced by the wearing of the SAR Rosette in the lapel of every suit in every photograph. All three of his sons, a grandson, great grandson, nephew, and first cousin all honored him by being active members of the Texas SAR. It is planned that his two year old great-great grandson named "Ira" will one day follow in his footsteps and be a member of the SAR.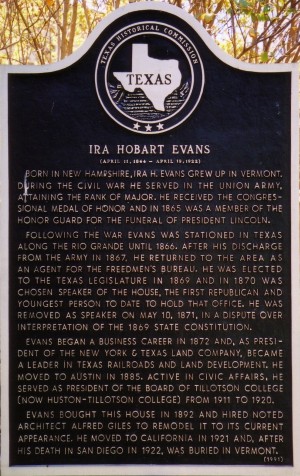 Texas Historical Commission Marker at the Austin Women's Club (former home of Ira H. Evans) in Austin, TX
Major Evans married in 1871 to Francese Abigail Hurlburt, daughter of Rev. Thaddeus B. Hurlbut and Abigail Paddock of Illinois, who were natives of Berlin, Vermont. They had three sons: Wilbur Leslie Evans, Hobart Yale Evans, and Francis Hurlbut Evans. Mrs. Evans was one of the first State Regents of the TXDAR. The Ira H. Evans Home in downtown Austin is on the National Register of Historic Places and considered a historic home by the Texas Historical Commission. It is a showplace today with many of the original furnishings and sits on an entire block near the State Capitol and Governor's Mansion. It is open to the public for tours.
In 1920, in failing health due to a heart condition, Major Evans moved to San Diego, California to live in a better climate at the request of his physicians. He promptly joined a chapter of the California Society, SAR and faithfully attended the meetings until the end. On April 19, 1922 he died of heart failure and was buried in the Evans Family lot in the Berlin Corners Cemetery in Berlin, Vermont.
At his funeral it was stated that he will be remembered as a person with a cultivated mind, an independent and free thinker far advanced of his time, and a pioneer in the Reconstruction of Texas after the war and in the preparation for the colonization of West Texas lands. He had great religious faith and was known as a man who gave liberally to charities and to individuals of Austin and other areas in Texas who needed assistance.
On July 10, 2004 twenty-one members of the Texas SAR traveled to Berlin Corners, Vermont for a joint memorial and dedication service with the Vermont Society at the grave-site of Major Evans. A SAR Grave Marker and Plaque was placed on his monument. The Texas SAR honored him for the legacy that he left behind. Major Evans is the only founder of a SAR state society to have received the Medal of Honor.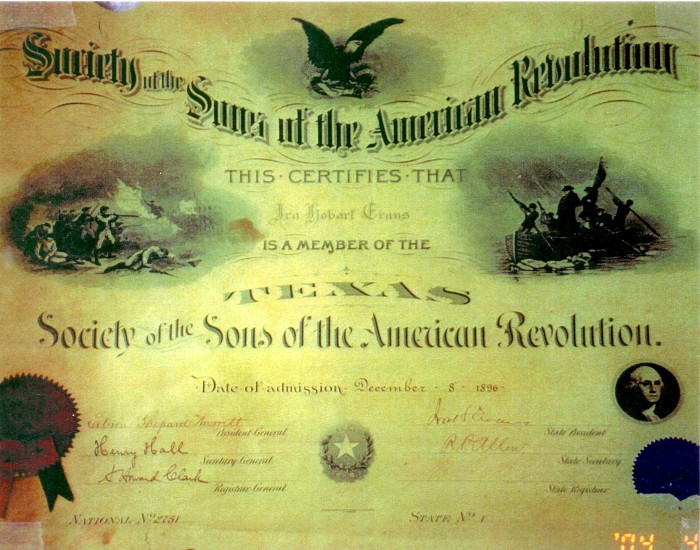 SAR Membership certificate of Ira H. Evans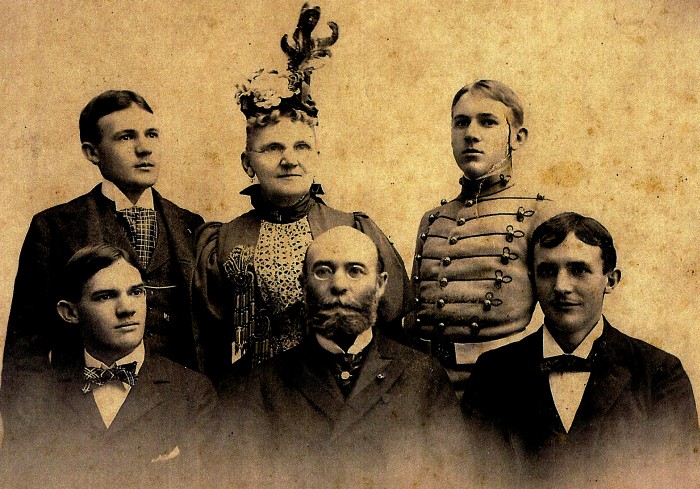 The Ira Evans family in Austin, TX around 1896. Standing (l-r): William Leslie Evans, Mrs. Ira Hobart Evans (Francese Abigail Hurlburt), and Francis Hurlburt Evans. Seated (l-r): Hobart Yale Evans, Maj. Ira Hobart Evans, and Wilburforce Hurlburt Young.
Additional Notes: Major Evans' accomplishments and awards are too numerous to mention unless a long article was to be written about him. The information that I have gathered is now housed in the Texas SAR Collection at the University of North Texas. All of Major Evans' business papers are in the Ira Evans Collection at the University of Tulsa Archive Library. Most of his personal papers, family photos, Medal of Honor, SAR Medals, and SAR Certificates still remain in the Evans Family with two great granddaughters. I did this work at the request of my two SAR heroes, Dick Robinett and Tom Green III. They are great compatriots.
Cannon Pritchard, PineyWoods Chapter
The Texas SAR History Book, volumes I and II are still available for purchase. An order form is available here.